What is Bitcoin?
Bitcoin, created in 2009 by Satoshi Nakamoto, is the first and top cryptocurrency to solve the issue of double-spend in history. It set the all-time high at $41940, on the 8th of January 2021. The Crypto Contract layout makes it easier for traders to select crypto contracts and gain profit depending on the market.
Contract Trading
The contract trading is the method of trading that aims to gain profit from market volatility. This method allows the user to forecast if the price of an asset will go up or down, involving leverage.
The traders are not buying or selling the asset, only speculating the price and forecasting if the value will go up or down. Contract trading can bring profit quicker than holding assets but the risk involved with this type of trading is higher. Bityard has two different types of Contract Trading: Cryptocurrencies and Derivatives.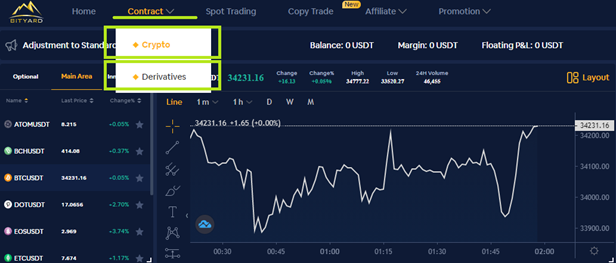 Bitcoin Contract trading is different from spot trading. The trading instrument called contract allows the investor to trade on the price movement of the cryptocurrency, at a future date or and at the desired price. It involves leverage and therefore the traders are not buying or selling the asset, only speculating on the price movement. With a trading fee set at 0.05%, Bityard has trading fees lower than the industry's average.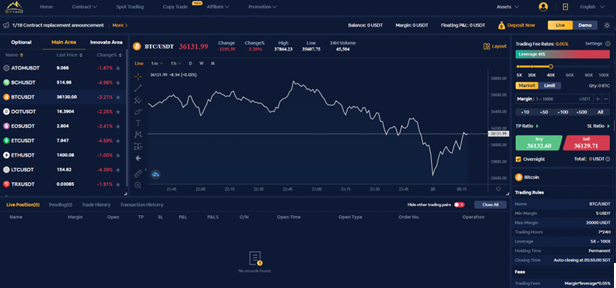 In the below scenario, I am forecasting that the Bitcoin price will go up. Selecting "Buy" will open the contract, at the current value of $34199.35. For this contract, I am using Demo Mode. I set the leverage at 40x, using 10,000 USDT for this contract. The 0.05% fee was added to the order, raising the contract value to 10,400 USDT.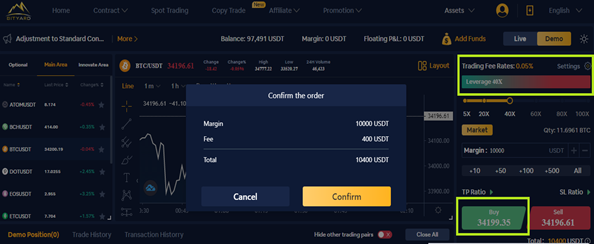 Once confirmed, the Bitcoin contract will appear at the bottom of the dashboard, under the "Positions" tab. The contract details will include the name of the cryptocurrency, the leverage, the chosen margin, opening price, and opening time. The contract will close automatically if the price will rise or drop at the set value, or it can be closed by the user at any time. Closing the contract manually is a method that can bring profit when the value is close to the set value and the price stops moving. Closing the contract will bring a smaller profit but will reduce time-wasting and stress due to volatility.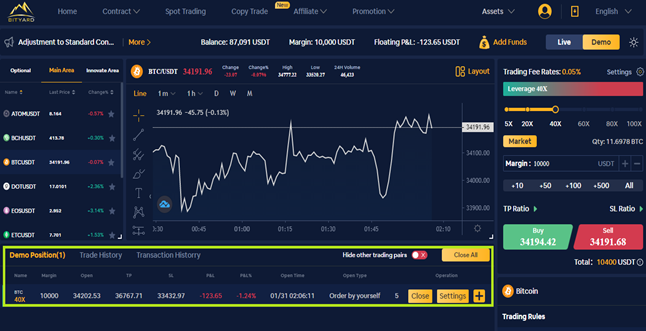 The Trade History will show closed contracts. The Bitcoin contract with 40x leverage was created at the value of $34,202 and was closed at $33,341. As a result of price depreciation, the contract and USDT were lost.

Why Bityard is different?
Bityard engine is the fastest on the market, processing up to 1 million transactions per second. The exchange is available for both mobile (Android & IOS) and web and has the lowest transaction fees. The website interface is available in nine different languages with customer support 24/7 via email and live chat.
Bityard is the world-leading cryptocurrency derivatives exchange, fully regulated and compliant with international laws, with the main activity in cryptocurrency contracts with leverage and derivatives exchange.
Bityard operates with licenses from four different countries: The USA, Australia, Singapore, and Estonia. The following licenses are regulating the exchange activity: the Singapore's ACRA (Accounting and Corporate Regulatory Authority), The American Money Services Businesses (MSBs), Estonia's MTR (Register of Economic Activity) for the European Union, and the Australian Transaction Reports and Analysis Centre (AUSTRAC)