When it comes to crypto trading, choosing the right trading platform is just as profound as discovering a successful trading strategy. However, with so many trading platforms available on the market, deciding which platform to choose can seem like a nightmare. In this article we will be comparing two trading platforms, namely Bityard and eToro. The platforms will be compared on the basis of the most important metrics that users use to decide on which platform to use.
What is eToro?
Etoro was founded in 2007 as a forex trading platform. It has evolved over the years to include stocks, derivatives, CFDs, and cryptocurrencies. It has a global reach, servicing over 17 million users in 140 countries. It is a multi-national licensed company, with licenses in countries such as Israel, UK, USA, Australia, among others.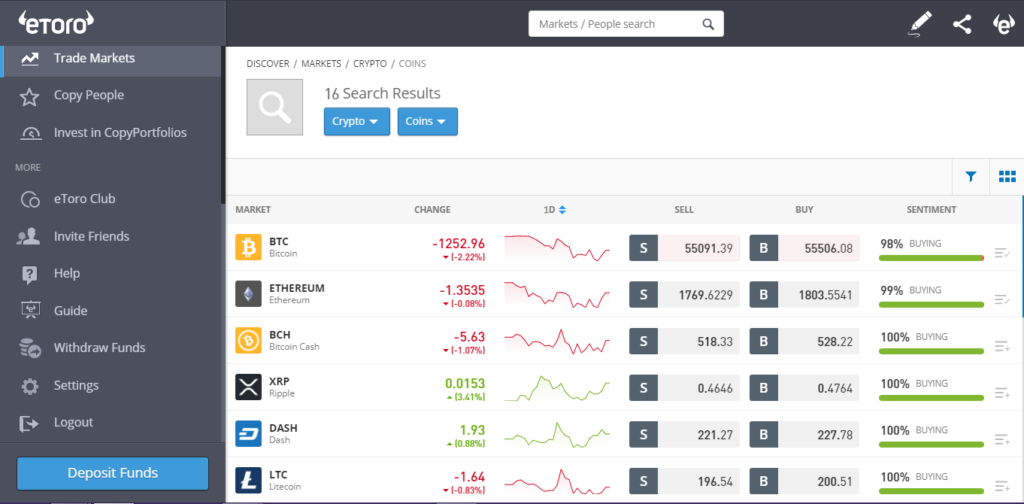 What is Bityard?
Bityard is a contract trading platform with crypto assets and derivatives. It was founded in 2019. So far, it boasts of over 100,000 registered users in over 150 countries across the globe, making it one of the fastest crypto trading platforms in the world. It is headquartered in Singapore and has multi-national licenses from Estonia, Singapore, the USA, and Australia.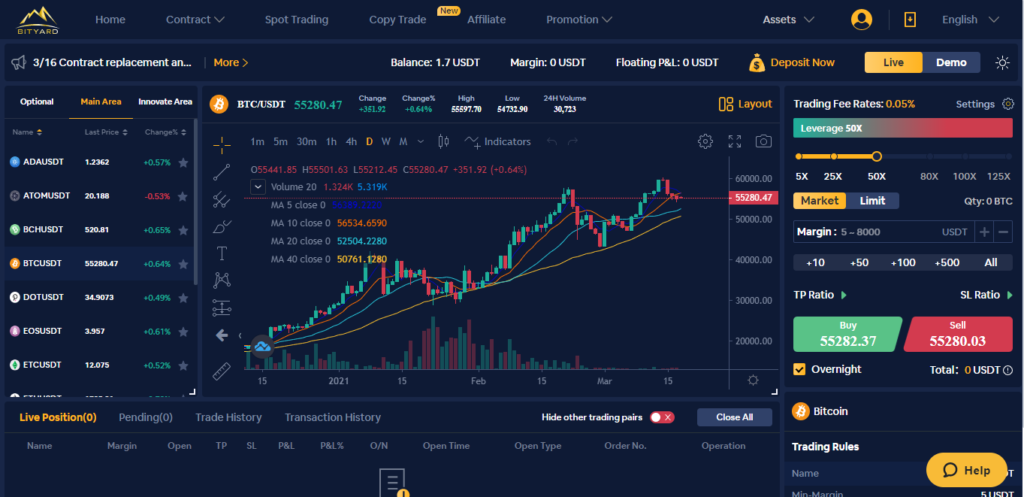 1. Layout and user interface
The Bityard website is easy to navigate, staying true to Bityard's mantra of designing a platform that simplifies complex trading. Which makes it user-friendly, regardless of the experience level of the trader. Traders have the option of trading via the website or the app version available for both Android and iOS. The website and the app provide similar features. There are many similarities between the eToro and Bityard platforms. However, the Bityard website has more charts, technical analysis tools, and a customizable viewing panel. Similarly, the Bityard app is easier to navigate as most features are easier to find. The eToro platform is loaded with more features such as newsfeeds and market research, which are harder to find for a newbie. A little tutorial might be necessary for a new user to find their way around the eToro platform.
2.Opening an account
Both EToro and Bityard require one to be registered in order to be able to trade on the platform. It takes just a few seconds to open an account. Bityard has the option of opening an account using either an email or phone number, while eToro gives the option of email, Facebook, or Google. You will receive a confirmation code that you will use to complete the registration. Once that is done, your account is ready to use. However, there are limited functionalities for accounts that have not verified their identity.
For both platforms, users who have not completed top-tier levels of KYC have limited access to the platform's features. EToro goes further as to make some features available only to users who have made their first deposit to their account. A minimum deposit of $200 is required on eToro
Bityard offers commission on referrals. On Bityard, a user can earn up to 60% of commissions on trading fees from referrals.
3.Trading experience
As already mentioned, Bityard seeks to simplify trading. "Complex contracts simple trade" appears on the first page of their website. True to that slogan, the trading experience on Bityard is seamless. There are 33 crypto assets with 19 trading pairs, and many derivatives ranging from stock market indices to precious metals. Although Etoro has only 16 crypto assets, it has hundreds of stocks, ETFs, indices, and currency pairs.
Funding a Bityard account can be done through cryptocurrency and fiat. Unfortunately, fiat deposits for Bityard are only available in certain regions at the moment (Vietnam, Indonesia, and China). There are plans to extend the service to more countries. On the other hand, eToro only accepts funding via credit/debit card.
Bityard and eToro both have a demo account that allows a user to try out real trades with fake money. Both platforms also have the CopyTrade feature which allows users to copy the positions of more experienced users on the platform.
4.Fees
Bityard has lower maker/taker fees, charging 0.05% of the transaction. For withdrawing, 2 USDT is the charge on Bityard. Etoro's trading fees vary by asset; it ranges from 0.75% – 5%. The minimum deposit that can be done is $200, while the minimum trade amount is $25. Etoro charges trading fees through spreads, which can rise and fall depending on market conditions. The withdrawal fee on eToro is $5.
5.Security
Both platforms have put up measures to enhance the security features on the platform. Every new login is authenticated by 2FA. Both platforms have PIN authentication for withdrawals. Bityard stores the crypto assets in cold storage, which protects them from hackers. The Bityard websites also have full SSL encryption, making all connections secure.
Conclusion
In this article, Bityard and eToro have been compared on different aspects. In terms of size, eToro has shown to have a bigger user base and a wider selection of non-crypto assets than Bityard. However, Bityard has more crypto assets to trade. The ease of registration is somewhat similar on both platforms, even though it is much easier to register on Bityard because a new user can enjoy the full features of the platform without first making a minimum deposit. Furthermore, the layout and user interface on Bityard has shown to have more superior features, hence giving a better trading experience. The welcome bonus and higher referral rewards on Bityard also make it a more attractive platform. Bityard's trading fees are also comparatively lower than eToro's. When it comes to security, both platforms have demonstrated their high regard for enhanced security, which is amazing.