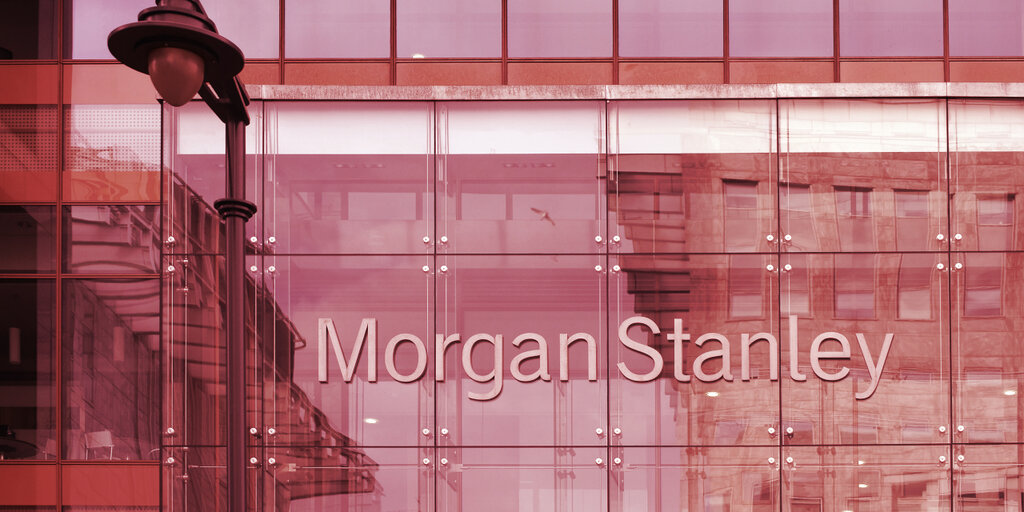 In brief
This will be the fourth
Bitcoin
fund linked to Morgan Stanley. The bank first embraced Bitcoin funds in March.
Morgan Stanley's wealth management clients may soon have even more options for getting into Bitcoin.
New York Digital Investment Group (NYDIG), a "financial services firm dedicated to Bitcoin," and FS Investments have filed paperwork with the US Securities and Exchange Commission (SEC) for a pooled investment fund aimed at clients of US mega-bank Morgan Stanley.
Such funds allow companies and/or people to get exposure to Bitcoin's price without taking custody of the asset. The funds do that, more or less, by tracking the price of BTC and adding on a management fee—though some funds can trade at a premium or discount compared to their underlying asset.
According to the SEC filing, Morgan Stanley "will receive certain placement and servicing fees with respect to clients it refers to the issuer."
The FS NYDIG Institutional Bitcoin Fund LP would be the fourth Morgan Stanley-linked fund that provides institutional clients' portfolios some exposure to cryptocurrency, and the second from NYDIG and FS Investments.
Morgan Stanley first offered Bitcoin funds in March, including the FS NYDIG Select Fund, the Galaxy Bitcoin Fund LP, and the Galaxy Institutional Bitcoin Fund LP. It was the first major US bank to do so, though the funds have high barriers to entry, with the minimum investment for the former two set at $25,000; it's $5 million to buy into the Galaxy Institutional Bitcoin Fund LP.
As evidenced by its tagline, NYDIG has been even more active on the crypto front. In May, it partnered with Fidelity National Information Services (FIS) to announce a way for ordinary bank customers to buy Bitcoin within their accounts.
"What we're doing is making it simple for everyday Americans and corporations to be able to buy Bitcoin through their existing bank relationships," Patrick Sells, head of bank solutions at NYDIG, told CNBC at the time.
That offering has yet to hit Main Street. Wall Street has a head start.

Source link