The past 3 weeks for Cryptocurrency traders and investors have been a roller coaster ride, with the carriage on a continuous descent and hearts threatening to leap out of chests.
Last week saw Bitcoin traded for as low as $50,500 on cryptocurrency-exchange Bityard, this price follows a continuous dip in the price of Bitcoin from an all-time high of $61,000, this is a 17% drop in value.
This price dip wasn't expected and was a result of certain external factors whose cumulated effect led to the drop
Factors Responsible
• The first significant price slippage occurred on the 15th of March after the Indian Government announced a plan to ban/regulate cryptocurrency in the country. This resulted in a selling frenzy, with many Cryptocurrency investors and traders in India rushing to convert their Bitcoin to cash, which resulted in a selling cascade involving investors from different countries. This dropped the price of Bitcoin from $60,000 to about $53,000.
• It staggered back up to $58,000 only to suffer another drop to $55,000 on the 22nd of March after being lauded by American Federal reserve chairman Fed Powell Chair, where he said Bitcoin was too volatile and wasn't a replacement for the dollar.
This was followed by a significant improvement to about $57,200 after Tesla CEO Elon Musk tweeted Tesla products could now be officially purchased with Bitcoin.
• But that wasn't the end, this was followed by a drop to about $51,000, which was caused by a huge amount of sell orders liquidated on cryptocurrency-exchange Bitmex triggering massive sell-offs that took the price of BTC to as low as $50,300.
The price of Bitcoin has since bounced back as Bitcoin now trades for $57,000 on world-leading Cryptocurrency-exchange Bityard.
What to Expect in the Coming Week?
The recent dip posed an important test Bitcoin had to take, the testing of the 50,000 mark which previously was a crucial psychological resistance, turned support. The price movement which held firm at the $50,000 mark, despite the constant incursions, shows strong support and one can expect Bitcoin to hold above $50,000
This is expected to inspire more confidence in long-term investments in Bitcoin and stimulate more buy orders. This will invariably lead to an increase in the price of Bitcoin.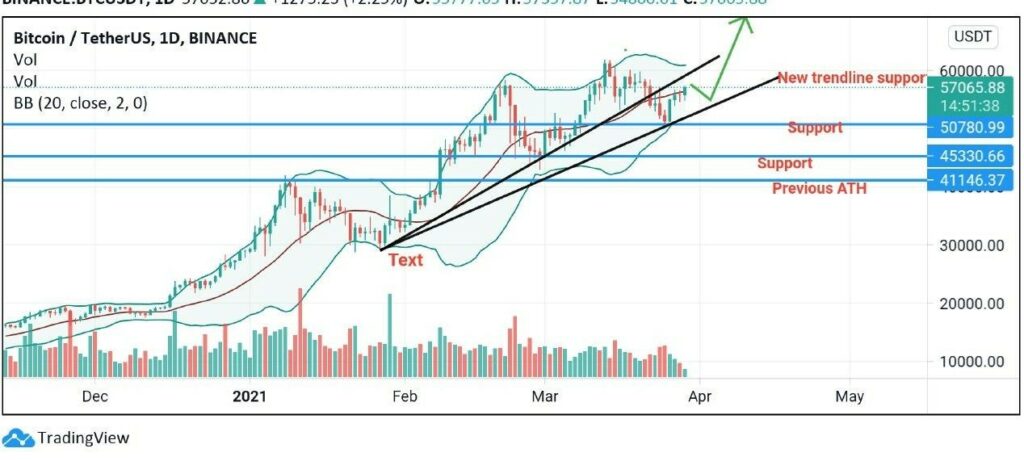 Based on technical analysis:
Technical analysis shows a potential continuous bullish trend to the upside. As shown on the chart above, the support levels at 50k hold strong and have not been broken, although price ejected on touching the 50k support zone, we are still expecting the price to revisit this area before moving strongly to the upside
To buy Bitcoin, we recommend the world-leading cryptocurrency exchange Bityard.
BITYARD
A secure and well-regulated exchange, with a simple platform designed with beginners in mind.
All you need do is register, deposit funds, click on the spot trading page, and buy whatever amount of Cryptocurrency you want. And then hold till you decide you've made enough returns.
Another investment option is the Copy trade option available on Bityard. This trading option allows users to make money from following expert traders, who contract trade digital assets. In this option, investors can make a profit from either direction of the market (when prices go up or when they come down).
Bityard offers the best prices on the market for any digital asset and has additional features which include a free daily mining option for users that allows you to get free tokens daily when you mine them on the exchange's app.
To register on Bityard and trade Ethereum or Bitcoin click on this link